Artistic Director, Soli Deo Gloria
Directeur Musical Honoraire, Orchestre de chambre de Paris
"From the first to the last minute of this 5-hour performance John Nelson expertly controlled the timing, the polyphony, the balance of the powerful orchestra and choruses, reducing them to a minimum for the Dido and Aeneas love duet, and the intensity and tension of every phrase of this score, which he had totally mastered. This score, which for a long time was said to be unplayable, was here realised to perfection, and was held aloft before the audience at the final applause."
Recent & Upcoming Highlights
Borusan Istanbul Philharmonic Orchestra
Bremer Philharmoniker
Gulbenkian Orchestra
Indianapolis Symphony Orchestra
National Symphony Orchestra of Taiwan
Orchestre National de Lyon
Orchestre Philharmonique de Strasbourg
Oper Frankfurt am Main
Opéra de Nice
Philharmonia Orchestra, London
Prague Radio Symphony Orchestra
Royal Danish Orchestra
Royal Philharmonic Orchestra
Shanghai Symphony Orchestra
St. Petersburg Philharmonic Orchestra
Grammy Award-winning conductor John Nelson is recognised worldwide as one of America's most eminent conductors, as well as the leading living interpreter of the music of Hector Berlioz.
In 2018, Nelson stole headlines across the world by way of outstanding critical reception to his complete recording of Berlioz's Les Troyens.  Recorded for Warner Classics/Erato with the Orchestre philharmonique de Strasbourg, a star-studded vocal cast (including Joyce DiDonato, Marie-Nicole Lemieux, and Michael Spyres), the recording met with universal acclaim – amassing such acolades as the BBC Music Magazine's 'Award for Opera', the International Opera Award.  It was also hailed by Gramophone Magazine not only as 'Opera Recording of the Year', but also 'Recording of the Year', and, in addition, received a nomination from The Sunday Times for 'Recording of the Decade', proudly reinforcing Nelson's work and authority as the world's leading Berlioz specialist.
Read More
The outstanding success of Les Troyens led to further Berlioz recording projects and special events.  In 2019, Nelson performed and recorded La Damnation de Faust, reuniting with Orchestre philharmonique de Strasbourg, Joyce DiDonato, and Michael Spyres.  Once again, this recording met with outstanding critical acclaim.
To mark the 150th anniversary of Berlioz's death, 2019 also saw the sublime staging of Berlioz's Requiem – in London's iconic St. Paul's Cathedral – broadcast by Medici.tv, and performed/recorded with London's Philharmonia Orchestra and Chorus.  Nelson joined once again by star tenor Michael Spyres and recorded for Warner Classics/Erato, leading The Telegraph to declare it "a brilliant recording of one of the greatest pieces ever written".
Over a career spanning some five decades, Nelson has conducted the world's leading orchestras and ensembles.  In North America, this includes the orchestras of Boston, Chicago, Cleveland, Los Angeles, New York, Philadelphia, Montréal, and Toronto.  In Europe, he has enjoyed working with such ensembles as the Academy of St. Martin-in-the-Fields, Budapest Festival Orchestra, Chamber Orchestra of Europe, Czech Philharmonic, Dresden Staatskapelle, Gewandhaus Leipzig, London Philharmonic, London Symphony, Madrid Symphony RTVE, Orchestre de Paris, Oslo Philharmonic, the Philharmonia, and the Royal Philharmonc Orchestra.  Across Asia, Nelson has worked regularly at the top level, with the likes of China Philharmonic, Hong Kong Philharmonic, National Symphony Orchestra of Taiwan, New Japan Philharmonic, and the orchestras of Shanghai, Guangzhou, and Hangzhou.
Nelson is a champion of operatic repertoire, and has conducted in the world's greatest opera houses – from the Metropolitan Opera and Chicago Lyric Theatre, to the Opéra Bastille de Paris, Grand Théatre de Genève, the Dutch National Opera, and the Teatro dell'Opera di Roma.
John Nelson studied at the Juilliard School in New York, where he received the Irving Berlin Conducting Prize.  Over the course of his career, he has served as Music Director of the Indianapolis Symphony Orchestra, the Opera Theater of St. Louis, the Caramoor Music Festival in New York and the Orchestre de chambre de Paris.  In addition, Nelson has held the positions of Principal Guest Conductor of the National Orchestra of Lyon, Artistic Advisor of the orchestras of Nashville and Louisville, and he is presently the Principal Guest Conductor of the National Orchestra of Costa Rica – the country in which he was born to American missionary parents.
Recognised as a great interpreter of the sacred music repertoire, in 1994 he co-founded SOLI DEO GLORIA, an organization based in Chicago that commissions works of sacred music from the world's foremost composers, such as Christopher Rouse, James MacMillan and Roxanna Panufnik.
In addition to his recent Berlioz triumphs with Warner Classics/Erato, Nelson's distinguished discography includes Händel's Semele (Grammy Award), Berlioz's Béatrice et Bénédict (Diapason d'Or), and highly acclaimed DVDs of Bach's B minor Mass and St. Matthew Passion, Haydn's Die Schöpfung and Beethoven's Missa Solemnis. He also recorded the complete Beethoven Symphonies and Piano Concertos with the Orchestre de chambre de Paris.
John Nelson conducts the Badische Staatskapelle in an all-French programme of Ravel (Le Tombeau de...
"Nelson is once again brilliantly on Berlioz's wavelength, getting a performance from the orchestra that strikes sparks on the imagination."
"Nelson conducts a fluent performance, at its best in Berlioz's enchanting will-'o-the-wisp delicacy."
"John Nelson's recording of Les Troyens is magnificent – now unquestionably the version of Berlioz's masterpiece to have at home."
"The conductor John Nelson was clearly born with Berlioz in his genes and his commitment to its enchanting ballet interludes and martial swagger, as well as it impassioned romantic idealism, is absolute."
"At present there are few conductors who, like John Nelson, can rightly be called 'Berlioz experts.' The Museumsorchester was transformed under his conductorship. The realisation of the instrumentation was breathtaking, unusual colour combinations emerged so naturally, the flow from light to shade was so transparent, so gripping the sprays of sparks, the dynamic peaks. And it was a joy to hear the choruses and singers being not only led, but lifted, transported. They seemed to be electrified, a current passing through them, from the triumphant opening notes to the final chord."
"From the first to the last minute of this 5-hour performance John Nelson expertly controlled the timing, the polyphony, the balance of the powerful orchestra and choruses, reducing them to a minimum for the Dido and Aeneas love duet, and the intensity and tension of every phrase of this score, which he had totally mastered. This score, which for a long time was said to be unplayable, was here realised to perfection, and was held aloft before the audience at the final applause."
"John Nelson proves to be a master at the desk of the Frankfurter Opern- und Museumorchesters and treats the drama of the music with differentiation. At the end of the evening he is deservedly greeted with tumultuous applause."
"Once again, John Nelson showed himself to be the most wonderful of maestri, who offered the public a tremendous performance.… His prescient, precise cues and musical directions left nothing to be desired. Everything was just right, and the resulting performance was extremely and wholly gripping."
"We must first of all honour the energy and impeccable conducting of the renowned Berlioz expert, John Nelson. He was in total control, and directed the 350 performers in this great Romantic opera with perfection."
"Quite simply, one of the most exciting experiences this listener has ever had in the concert hall."
"John Nelson took everyone to the summit. He has an intimate knowledge and a true vision of Les Troyens, developed over many years. He drew back the bow to its limit and made of this concert a great theatrical experience."
"Maestro Nelson succeeds in giving us a recording (Handel L'Allegro, il Penseroso ed il Moderato) that – in its ideal balance and crystalline clarity – is texturally superior, properly weighted at the appropriate points, and offers fastidious attention to the most minute details. The result is a presentation that is exceptionally imaginative and rewarding throughout, one that decidedly deserves a niche in our Classical Hall of Fame."
"John Nelson's temperament and heart return to some identifiable signposts for those who are drawn to the inner wonders of this visceral and shimmering journey… the corporate momentum in this reading is quite compelling… Nelson gets to the core of this work with his avuncular didacticism and genial control… true characterisation, tenderness, ardour and an attentiveness to detail [Schola Cantorum of Oxford] which fuels Nelson's rounded and mature vision of the St Matthew."
"What was offered was the finest music expressed with the highest sensitivity…elegant and virtuosic, a profoundly un-pretentious expression and dance-like grace became, under the sovereign direction of Nelson, a radiant painting of sound."
"John Nelson…clearly has the measure, as much as anyone, of this score (Beethoven Missa Solemnis, European Chamber Orchestra) and succeeds in conveying the urgency of his view with gestures and expressions that are eloquent and undemonstrative. It seems unlikely that Beethoven's vision in this work will ever be more completely captured."
"John Nelson conducted and the orchestra (New York Philharmonic) produced the liveliest, most polished and committed playing I have heard from it this season."
Berlioz: La Damnation de Faust
Released 2019 on Erato / Warner Classics
Michael Spyres (Faust), Joyce DiDonato (Marguerite), Nicolas Courjal (Méphistophélès), Alexandre Duhamel (Brander)
Coro Gulbenkian, Strasbourg Philharmonic Orchestra, John Nelson
Berlioz Grande Messe des morts (Requiem)
Released 2019 on Erato / Warner Classics
Marking the 150th anniversary of Berlioz's death, this performance of the mighty 'Requiem' or 'Grande Messe des Morts' took place in St Paul's Cathedral, London, in March 2019. Featuring the Philarmonia Orchestra, conducted by John Nelson, it involved over 300 musicians, including tenor Michael Spyres.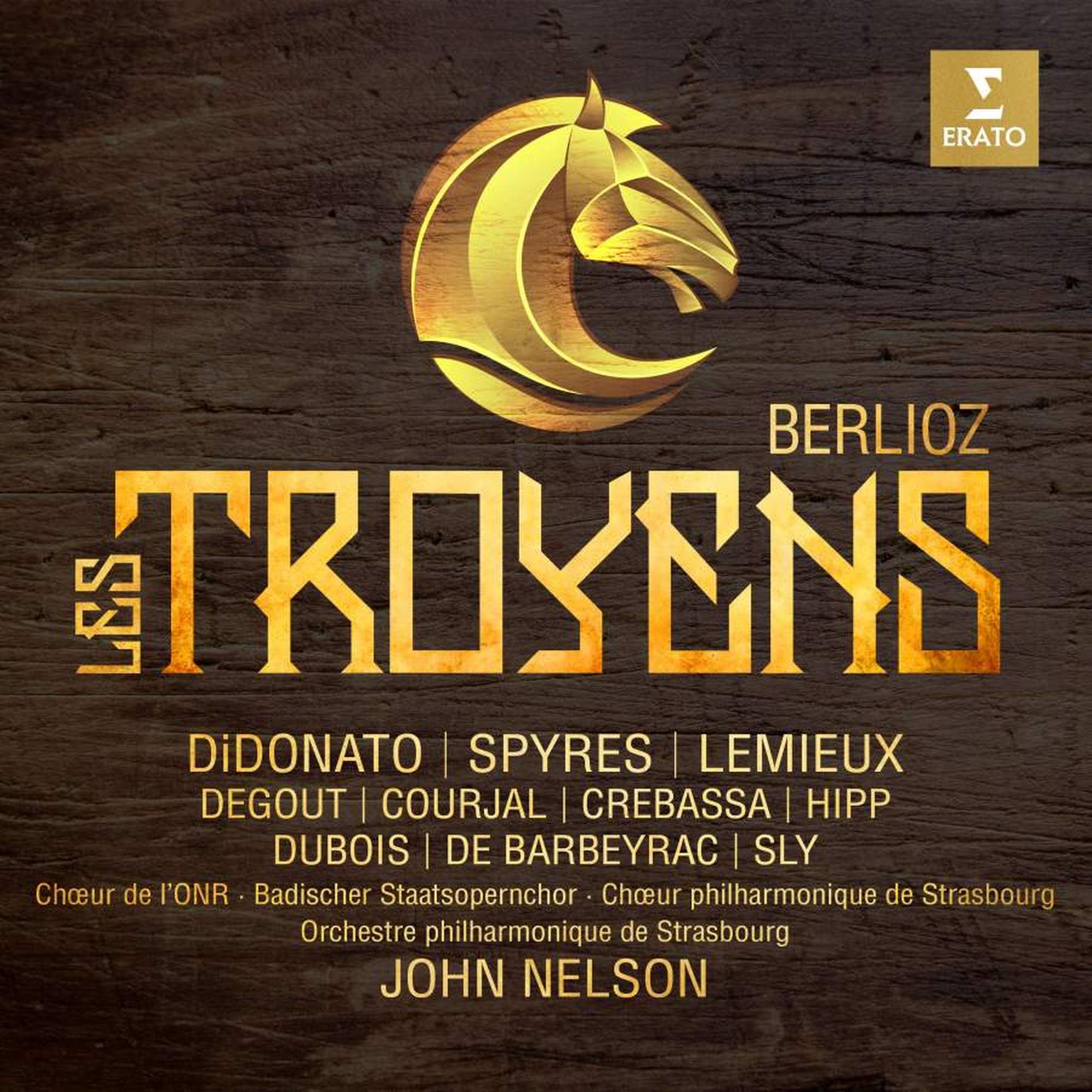 Berlioz Les Troyens
Released November 2017 on Warner Classic
Joyce DiDonato, Michael Spyres, Marie-Nicole Lemieux, Stéphane Degout, Nicolas Courjal, Marianne Crebassa, Hanna Hipp, Cyrille Dubois, Stanislas de Barbeyrac, Philippe Sly
Choeur de l'Opéra du Rhin, Badischer Staatsopernchor, Choeur philharmonique de Strasbourg, Orchestre philharmonique de Strasbourg
Sunday Times Culture Magazine Classical Album of the Year (2017)
Gramophone's Recording of the Month (November 2017)
Mark Pullinger's and David Patrick Stearns' "Critics' Choice 2017"
Bach St Matthew Passion
Released February 2013 on Ideale Audience International
Beethoven Missa Solemnis
Released February 2011 on Ideale Audience International
Haydn The Creation
Released February 2011 on Ideale Audience International
Berlioz Te Deum
Released October 2001 on Virgin / Warner Classics
Handel L'allegro, il penseroso ed il moderato
Released March 2000 on Parlophone UK