Knight Classical represents Alena Baeva for worldwide general management.
"Swaggering, heroic, and full of personality."
Recent & Upcoming Highlights
Alte Oper Frankfurt
Gürzenich-Orchester Köln
London Philharmonic Orchestra
MusicÆterna
NHK Symphony Orchestra Tokyo
Orchestra della Svizzera Italiana
Orchestre National d'Île de France
Orquesta Sinfónica de la RTVE
Orchestra Sinfónica Nazionale della RAI
Royal Liverpool Philharmonic Orchestra
Royal Philharmonic Orchestra
Russian National Orchestra
Tonhalle-Orchester Zürich
Tonkünstler-Orchester
Warsaw Philharmonic Orchestra
Described as "a magnetic presence" and "a constantly fascinating sound technician" (New York Classical Review), Russian violinist Alena Baeva is considered one of the most exciting, versatile, and alluring soloists active on the world stage today.
Baeva's career as an international soloist of the highest renown has grown at an extraordinary pace over recent seasons. She now enjoys a particularly strong working partnership with Paavo Järvi, with whom recent and future collaborations include performances with the Estonian Festival Orchestra, NHK Symphony Orchestra Tokyo, and the Tonhalle-Orchester Zürich. Another such regular collaborative partnership is that with Vladimir Jurowski, with whom Baeva has both recorded and performed on numerous occasions, including with the London Philharmonic Orchestra, and Moscow's Russian State Symphony Orchestra 'Evgeny Svetlanov'.
Further conductor collaborations of particular note include Teodor Currentzis and Valery Gergiev, with whom Baeva has toured internationally as concerto soloist (with MusicÆterna and the Mariinsky Orchestra, respectively). She also enjoys growing musical partnerships with the young rising star conductors Robert Trevino (Basque National Orchestra, Gürzenich-Orchester Köln, and the Malmö Symfoniorkester), and Duncan Ward (Moscow Philharmonic, Netherlands Philharmonic, and the Royal Liverpool Philharmonic Orchestra). Recent and forthcoming concerto highlights include those with Andrey Boreyko (Warsaw Philharmonic Orchestra), Charles Dutoit (Orchestra della Svizzera Italiana), Tomáš Netopil (Orchestra Sinfónica Nazionale della RAI), and Mikhail Pletnev (Russian National Orchestra), alongside her debuts in Frankfurt (Alte Oper Frankfurt), Madrid (Orquesta Sinfónica y Coro de la RTVE), Munich (Münchner Symphoniker), and Vienna (Tonkünstler-Orchester).
Read More
Chamber music has always held a special place in Baeva's musical life. She has the pleasure of collaborating with such esteemed artists as Martha Argerich, Yuri Bashmet, Steven Isserlis, Daishin Kashimoto, Misha Maisky, Lawrence Power, Julian Steckel, and Yeol-Eum Son. Her regular sonata partner is the celebrated Ukrainian pianist Vadym Kholodenko (2013 Van Cliburn Winner), with whom she has established a musical partnership of more than a decade.
Baeva holds an already vast and rapidly expanding repertoire, including over forty violin concerti, and is a champion of lesser known works – with recent performances promoting such composers as Bacewicz, Karaev, and Karłowicz, alongside more mainstream violin literature. She also enjoys a lasting relationship with the Orchestra of the XVIII Century, performing and recording a variety of repertoire on period instruments.
Baeva's extensive discography reflects the impressive breadth of her repertoire, with recordings ranging from Szymanowski (for DUX), to Debussy, Poulenc, and Prokofiev (for SIMC), and more. Her Paris performance of Shostakovich Violin Concerto No.2 features as part of the Mariinsky Theatre/Valery Gergiev box-set DVD collection, released by Arthaus Musik in 2015. In 2018, she made a recording of both the Karłowicz Violin Concerto with the Royal Philharmonic Orchestra (for NIFC), and of the Tchaikovsky Violin Concerto with London Philharmonic Orchestra/Vladimir Jurowski, to be released on the LPO Live label. 2020 saw the release of her latest album – a recording of the Schumann Violin Concerto and the original (1844) version of the Mendelssohn Violin Concerto in E minor – released worldwide on Melodiya Records.
Born in Russia to a musical family, Baeva took her first violin lessons at the age of five under renowned pedagogue Olga Danilova, before going on to study in Moscow with Professor Eduard Grach at the Central School of Music and the State Tchaikovsky Conservatoire. In addition to her formal education, she studied in France with Mstislav Rostropovich, in Switzerland with Seiji Ozawa, in Israel with Shlomo Mintz (at Keshet Eilon Music Center), and in Paris with Boris Garlitsky. Aged 16, Baeva won the Grand Prix at the 12th International Henryk Wieniawski Competition (2001), as well as the Prize for Best Performance of a Contemporary Work. Following this, she went on to take the Grand Prix at the Moscow International Niccolò Paganini Competition (2004), including a Special Prize allowing her to perform on the 1723 Wieniawski Stradivari for one year, and was awarded both the Gold Medal and the Audience Prize at the Sendai International Violin Competition (2007).
Alena Baeva plays on the "ex-William Kroll" Guarneri del Gesù of 1738 – on generous loan from an anonymous patron, with the kind assistance of J&A Beares.
Alena Baeva makes her debut with the Orchestra della Toscana, performing three concerts of the...
"Utterly ravishing and full of melody, Alena Baeva, the young Russian violinist, immediately impressed with her tone. I can see why Järvi (among others) is a keen champion of her skills and musicianship – we shall certainly see and hear a lot more of this excellent young artist. Baeva had made her mark with great aplomb."
"Baeva brings sweetness of tone, flowing hauntingly before taking off with exciting virtuosity."
"A miracle – music-making as an expression of sheer love"
"Alena Baeva is a violinist of proven musicality and impeccable intonation…. In the cadenza [of the Britten Violin Concerto], she created one of the most attractive moments in concert history.  In a work full of connections, Baeva gave an entire articulatory lesson: you could not help but get carried away…"
"Exuberant – Alena Baeva's interpretation is impassioned and passionate, inexorably leading to a standing ovation from the audience of the RAI Auditorium. She reveals her personal imprint through an ever brilliant and light sound, accompanied by an enviable variety in vibrato and impeccable technical mastery."
"The musical empathy between Baeva & Jurowski was evident, not just in tempos and moment-to-moment detail, but in the very character of the piece. There were muscularity and thrilling virtuosity aplenty, but there was also gentle, intimate playing, drawing the audience into passages with the emotional complexity of chamber music. […] In the second movement, Baeva became a delicate, distant voice, poetic and captivating. In the Finale she let rip – swaggering, heroic, and full of personality."
"Fine technique and imaginative phrasing…. In the Canzonetta, her beautiful violin tone and her lovely shaping of Tchaikovsky's song-like melodies marked her out as an outstanding player, and her account of the Finale was not only strikingly virtuosic but had a compelling quality of joyous abandon."
"Everything about the performance seemed to get under the skin of this very familiar work, giving [the Tchaikovsky Violin Concerto] more than a new lease of life. The first movement had poise and excitement in equal measure, with Alena Baeva demonstrating an exceptional evenness of tone across all the registers and an evident responsiveness to Vladimir Jurowski and the London Philharmonic Orchestra. The brief slow movement was given the most sensitive account, hushed and romantic in the most tasteful manner. The finale was everything you'd want it to be, thrillingly fast and technically sure footed, as well as having a true heart in the gentler passages. So, this was an undoubtedly a top-notch performance, making this masterpiece sound even more like one of the composer's greatest works."
"Soloist Alena Baeva had a glowing tone, with which she held sensual command… she formed the sovereign centre of the enchanted world of Szymanowski."
"Baeva was a magnetic presence, and the sound of her instrument, the fullness of tone, and her marvelously precise intonation were admirable and beautiful in and of themselves. Her strength and fire made the [Bacewicz] concerto sound like a masterpiece."
"Baeva & Kholodenko constitute a communicative and brilliant duo, always putting virtuosity at the service of the musical work…"
"Baeva can sing with the violin – a constantly fascinating sound technician, with the highest rhythmic versatility."
"The same calibre as Janine Jansen – gripping musicality, warm, sensual, flawless, and accurate."
"Star soloist Alena Baeva, whose dark beautiful tone and intense sound colours cause the violin to sing and to soar."
"Besides her striking stage presence, Baeva makes more sense of this thorny score than anyone else I can recall… approachable emotionally despite the starkness typical of late Shostakovich."
"Baeva's interpretation [of the Beethoven Concerto] gave it a new, enchanting glow."
"Alena Baeva, was an expressive, sparkling counterpoint…very fine interplay, with close and responsive cooperation. I have never heard this violin concerto played with such fine nuances."
"Baeva is an excellent violinist and wholeheartedly embraces the complexities of Shostakovich and plays the 2nd Violin Concerto with ease and authority."
Mendelssohn, Schumann: Violin Concertos
Released June 2020 via Melodiya Records.
Alena Baeva, Persimfans Orchestra
Karłowicz: Symfonia "Odrodzenie", Violin Concerto
Released February 2019 by The Fryderyk Chopin Institute
Conductor: Grzegorz Nowak
Royal Philharmonic Orchestra
Shostakovich: Complete Symphonies & Concertos
Released April 2015 on Arthaus
Conductor: Valery Gergiev
Orchestra and Chorus of the Mariinsky Theatre
Alena Baeva plays Shostakovich Violin Concerto No 2
Baczewicz - Szostakowicz
G. Bacewicz: Divertimento
D. Shostakovich: Violin concerto No.1 Op.77
Alena Baeva, violin
Polish Baltic Philharmonic Orchestra
Massimiliano Caldi, conductor
Live recording of the opening concert of the Symphonic Season 2016/17 at the Olowianka Hall of the Gdansk/Danzig Concert Hall
November 2017
PFB Live
Schubert
Released May 2013 on Sony Music Entertainment Germany Gm
Schubert: Streichquartett Nr. 14 d-moll, Erlkönig & Sonate a-Moll für Arpeggione und Klavier, D. 821
Soloist: Yuri Bashmet
Alena Baeva participated in the Erlkönig recording
Poulenc, Debussy and Prokofiev Sonatas
Released May 2009 on Sendai Cultual Foundation
Top of the 3rd Sendai International Music Competition
Poulenc: Sonata for Violin and Piano
Debussy: Sonata for Violin and Piano
Prokofiev: Sonata for Violin and Piano, No 1 in F minor, Op 80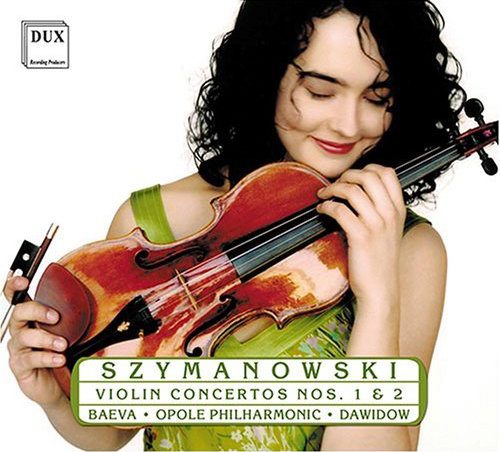 Szymanowski Violin Concertos
Karol Szymanowski (1882-1937)
Violin Concerto No. 1 Op. 35 (1916)
Violin Concerto No. 2 Op. 61 (1933)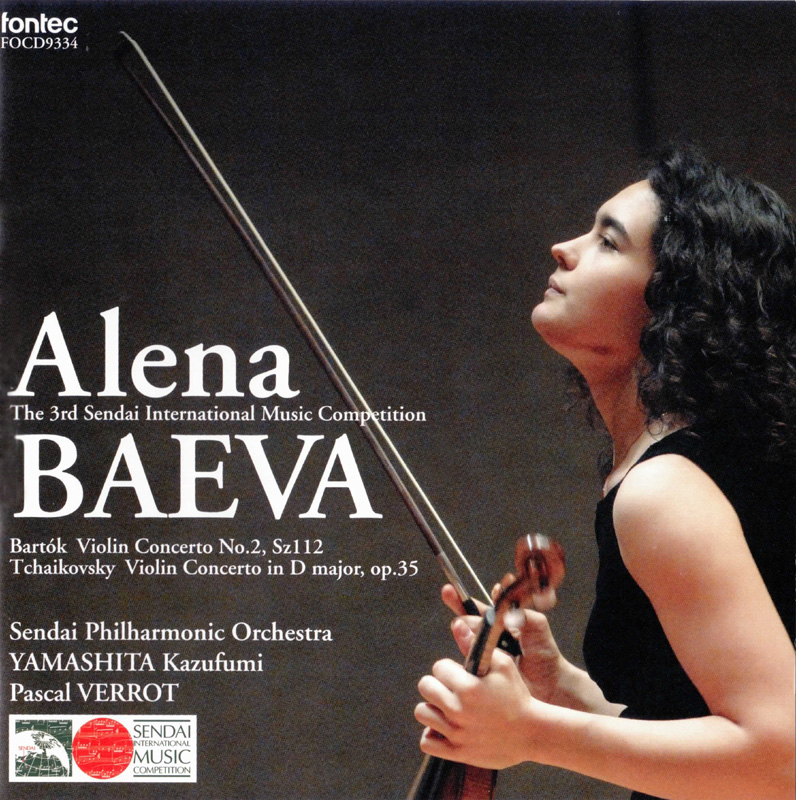 Bartok and Tchaikovsky Violin Concertos
The 3rd Sendai International Music Competition
1-3 Bartok Violin Concerto No.2, Sz112
4-6 Tchaikovsky Violin Concerto in D major, op.35
Sendai Philharmonic Orchestra
Conducted by YAMASHITA Kazufumi (1-3)
Conducted by Pascal VERROT (4-6)
Alena Baeva
The Russian National Orchestra, conducted by Paavo Berglund
Recorded at the studio VGTRK "Culture" (June 2005)